Canon Dr Phil Groves was asked to address the Full Council of the Churches of East Asia on the subject of Handling Conflict. In the early hours of the morning on the day of the talk he was wide awake in the grip of jetlag and adrenalin. He was panicking thinking about the amazing people attending the Council and wondering what he could say. This is what he wrote that night.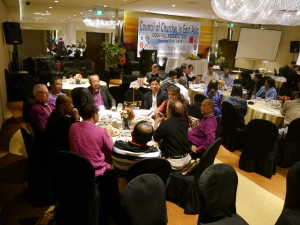 Today I speak to the Council of Churches in East Asia.
It is 4.38am and I am wide awake. I am still on UK time.
They have asked me to speak on handling conflict. What am I going to say? I have at least three talks prepared, but now I am here I have to make a choice and on top of that the excellent sermon by Bishop Abibico, the Prime Bishop of the Philippines, has set and agenda I have to follow.
I ask myself: what do I know?
There are people here who have made immense contribution to peaceful society in their own context. Everywhere I go I uncover new stories of Anglicans transforming the world they live in. It is not for nothing that Archbishop Justin says that reconciliation is in the DNA of Anglicanism.
I am speaking to people who confront injustice and transform conflict across the region.
My story is far less exciting. I am a dull Englishman who lives in wealth and security.
Bishop Abibico has already said so much – I could just listen to him again. Perhaps I should just ask him to speak again?
I remind myself: I am not here to speak about me.
What I do is meet incredible people; I hear their stories, then with their permission, I tell their stories.
For 10 years I have worked at the Anglican Communion Office and I have heard story after story that reduces me to tears. There are Anglicans all over the world of every theological wing of the church who have brought peace from conflict. They do so in places where Anglicanism is a tiny minority and in places where Anglicanism is a major political force.
Reconciliation is in our DNA.
I tell their stories: They inspire others.
But that is not all I do.
I also analyse the stories. They come from very different contexts, but they have so much in common. A story from Kenya resonates in Brazil. A story from California inspires people in Australia. Every story is local in context; every story is global in relevance.
I ask the question: What do all these stories have in common?
I ask this question with all kinds of people. Continuing Indaba drew on the experience of over 100 theologians (some of them formally trained – others trained in other ways). Please look at their work and be inspired.
But it is not even about these people. In the end it is about Christ and Christ crucified.
Every story of conflict transformation and of reconciliation has a corresponding story within the pages of Scripture.
All reconciliation comes to the foot of the cross, looks into the ultimate despair, and finds hope in the resurrection.
Every story of reconciliation is the story of Pentecost and the coming of the Spirit to bless diversity.
I come to the Council of Churches in East Asia with stories from across the Communion and with the Scriptures in hand.
So what am I going to say?
1.     Conflict is Good
Asia knows conflict is good. The model of a conflict free society is North Korea. This last bastion of the post World War II turmoil is one of the greatest attempts to stifle any opposition. All are commanded to dance to the same tune and the result is not pretty.
Every monstrous dictatorship is the same. Bishop Abibico reminded us last night of the heroism of the church here in 1986. They stood up to President Marcos bringing about a revolution that allowed good disagreement. It allowed people to speak. Poverty he reminded us destroys dignity because it removes power from people. People should have the power to speak.
False prophets spread fear through simple slogans that demonise others seeking their removal. Opposition is silenced. Power is enforced. Corruption becomes endemic.
Totalitarianism leads to failed states and to failed churches – as Archbishop Justin Welby said in his remarkable address to the Faith in Conflict Conference in 2011.
So message the first message is Conflict is a Positive.
Conflict is good – if you find a church in your diocese with no conflict, you know it is a dead church.
But ….
Conflict handled badly is unbelievably evil.
Asia knows this. Outside the hotel is the harbour where Japanese ships replaced the American colonialists in a war that covered the whole world. The people of the Philippines were no happier with the American colonialism than they were with the Japanese oppression that followed it. They suffered under both.
That war still defines the region with stand-offs between Korea North and South, as well as between Japan, China and Korea. Add to that the migration into Malaysia from wars as far away as Syria and Afghanistan as well as Sri Lanka and the overspill of conflict in Myanmar and Bangladesh and every one of the delegates here knows the devastation of conflict handled badly.
But this bad handling of conflict is often when one side seeks to eliminate or suppress the other. Conflict handled badly is often an attempt to end conflict by victory achieved by force.
Conflict handled badly is destructive, conflict handled well is energising.
2.     There is no clear distinction between conflict in church and conflict in the wider society.
The story of Christ is not a religious story. He is crucified by an authoritarian government enforcing a totalitarian rule. The Peace of Rome may have been an era without war (at least within its borders) but it was brutal and crushed dissent. The internal squabble on doctrine within Judaism was played out in a wider political context. Ultimately Christianity was a threat to social order based on emperor cults. It is this same story that is played out so openly in North Korea, but also – often in more subtle ways – in other contexts. The new gods may be consumerism, the striving for money, or nationalism, but in every context if Christ is Lord he is a threat to the powerful.
The splits in our churches are the splits in our societies. This is seen very clearly in Hong Kong. The youth supporting the Umbrella Movement inspired by Occupy Hong Kong are frustrated at the conservative nature of the elders. These conflicts are in the society and in the church.
The Deans of the Cathedrals in Hong Kong are using Indaba to engage with the energised youth and the elders they perceive to be fearful, but who may have wisdom. They do so to energise all and bring wisdom to all.
3. Some key points to remember
I discovered the intimate link between conflict transformation in church and society in 2009 on my first Continuing Indaba visit to Kenya. Invited by the Archbishop, I asked theologians, lay ordained and episcopal, to help us with biblical processes of conflict transformation. We had so many great responses and one from John Mark Oduor stood out, he called it the Luo Drumbeat.
I am going to tell them what excited me about what he wrote.
John Mark said that the drums in Africa were beating out the rhythms of fear and blame, whipping up a spirit of anger. Key to the drive towards violent conflict is the failure to take responsibility. People call on God to defeat their enemies; they call on the international community to fight and they are dismayed when God does not intervene and the global community is either not interested or just makes things worse.
He calls for a new drum sounding a new beat. The strings of the drum are:
Relationship. There is a need to see one another as part of a community that stand together in all circumstances. 'A prerequisite to understanding the community and dealing with its issues was in being part of the community, to be in relationship.'
Once community is established conversation is possible. Oduor says that within his Luo culture: 'the community appreciated the diversity within itself. They expected people to hold different opinions but everyone was allowed to talk and share their ideas. There was room for everyone.' Jesus also spoke of conflict transformation in this way encouraging face to face conversation in the context of conflict. (Matthew 18).
The third string is a place of meeting – a Fellowship, Indaba or Baraza. In the Luo culture a tree of meeting was set aside as a place where the community could come to discuss concerns and share one another's 'burdens, weaknesses, strengths and encouragements.'
As the community comes together there must be and increasing appreciation of our uniqueness. This is the forth string and it allows members to use their best qualities, skills, and talents to enrich the life of the community. The interplay between individual uniqueness and community wholeness is understood in African societies. Oduor writes: 'Among the Luo one's identity was not based on individual name or individuality as such, but tied to the identity of the whole community.'
The final string is the hardest part of community life. It is forgiveness and belonging. Oduor quotes Richard Gehman who says, 'Forgiveness is costly and difficult. True forgiveness is the hardest thing in the universe, our idea of justice pull the other way. It means living and not just reciting the Lord's Prayer and forgiving others as we are forgiven ourselves. Oduor again remembers the traditions of his people when he says:
The Luo called forgiveness wena, which literally translated means, 'Leave me' or 'let me go'. It gave the victim the prerogative or the final say after or during forgiveness has taken place. After forgiveness the community encouraged that victim and the aggressor to 'walk together,' as a demonstration of 'belonging together.'
The five strings of relationship, conversation, a place of meeting, appreciation of our uniqueness, and forgiving and belonging are the way in which the new drum beats out the rhythm of unconditional love and reconciliation. This new drum beat is needed in our church and in our world.
4. The Value of Diversity
I am going to leave them thinking about the value of diversity.
All the sessions of the Assembly are in English. It must be hard. Apart from the Australian delegation, English is a second, third or even forth language. I know that when I operate in Swahili I am drained by the end of the day. Working in another language is exhausting.
So I will remind them that at Pentecost each one heard in their own language. I am told that there are 1,000 dialects and languages in the Philippines alone. Each one hears in their own language.
I am going to end with them all saying what is for me a key text of reconciliation. They are all going to read Philippians 2:3-11. It is not something to just believe – it is something to do.
Do nothing from selfish ambition or conceit, but in humility regard others as better than yourselves. Let each of you look not to your own interests, but to the interests of others. Let the same mind be in you that was in Christ Jesus,
who, though he was in the form of God,
did not regard equality with God
as something to be exploited,
 but emptied himself,
taking the form of a slave,
being born in human likeness.
And being found in human form,
he humbled himself
and became obedient to the point of death—
even death on a cross.
Therefore God also highly exalted him
and gave him the name
that is above every name,
 so that at the name of Jesus
every knee should bend,
in heaven and on earth and under the earth,
and every tongue should confess
that Jesus Christ is Lord,
to the glory of God the Father.
When I speak they will think about their own conflicts, large and small. They will think of congregations fighting with their priests, of the tensions between ethnic groups and of the oppressive forces beyond my imagination. They will not hear about me, they will end thinking on Jesus, who lived among us, died as a slave, rose again in hope and will come again in glory.
This is a story of conflict entered into and won, not by force but by sacrificial love. Amen.