Author: Revd Catherine Simpson
This was a St Patrick's night I don't think I will ever forget; it was inspirational and emotional. We were reminded of who God says we are through Christ and challenged to be led by the Holy Spirit, not held back by the past.
Peace movements have always existed, but in a country where everything is tribal and communities exist in a mutually comfortable apartheid, the difference about this event was the presence of young adults. They came to bring change, not to make sure their political convictions were represented.
Hearing each other's heart was the mark of the #IAmAPeacemovement night. Both the Lord Mayor of Belfast and Archbishop of Canterbury came and set aside their vocational roles to reveal their true identity and aspirations.
In a country where our identities are messed up and trampled upon by sectarian divisions and hatred, the Archbishop of Canterbury gave direction for how we can bring change, reconciliation, redemption and restoration for our fractured and confused identities. The Archbishop affirmed and encouraged. He did it gently and humbly but with conviction.
I am humbled, challenged and passionate to be a part of what God is birthing on this island. Those words from Micah 6, "What does the Lord require of you? To act justly and to love mercy and to walk humbly with your God," have resonated since Tuesday night in my head and heart.
This was a significant visit, not just for Anglicans but for all Christians. The first time in fifty years an Archbishop of Canterbury was at St. Patrick's burial site on St. Patrick's Day and his message of reconciliation showed what his key priority was. We need encouragement and guidance for a peace-building process that has been pushed aside and derailed, much like the political system. And Archbishop Welby did just that through his presence and his message. He reminded us to follow the road of reconciliation, steeped in prayer and proclamation.
We need pioneers of peace; the peace-makers of the past must pass on the legacy of peacemaking. We must lift our heads once more and move forward in a way not yet seen. We need to raise up a generation who are prepared to proclaim the Gospel and then live it, a generation whose identities are fully formed in Jesus Christ.
About the author: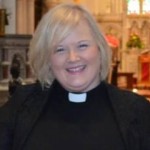 Revd Catherine Simpson is training for the ordained ministry in the Church of Ireland, currently in her Deacon intern year in Christ Church, Castledawson in the Diocese of Derry and Raphoe. She is passionate about seeing generations raised up who are prepared to proclaim the Gospel and then live it – a community of disciples making disciples, who transform the community in which they live and work toward peace-building and societal healing within Northern Ireland.